Un camino desde la Filosofía hasta el Derecho como propuesta de diálogo posmoderno sobre la libertad religiosa
Jaime Baquero de la Calle Rivadeneira
Abstract
This research has as objective to elaborate a brief analysis –in the cultural context of the present occidental thought– of the philosophical concept of transcendence, contrasting it with other different versions, by its place or its time; in order to give way to the study of the feasibility –or not– of sustaining certain positive rights in a philosophically enriched notion of transcendence. The study will begin with a philosophical-deductive methodology; to end, finally, with the reference to positive law, using its own methods. A conception of "science" reduced to its technical –mainly inductive– and experimental version, in addition to the gradual neglection of academic rigor in human sciences, have hindered the study of the person as a being open to transcendence. We need to return to Western and Eastern sources that have addressed the study of the person from a philosophical and holistic conception. This could be the most appropriate way to lay foundations again, in order to create a dialogue about the existence of a "right to transcendence", which is necessary for the development of legal systems that protect the free exercise of the religious dimension of the person, in an individually and collectively way.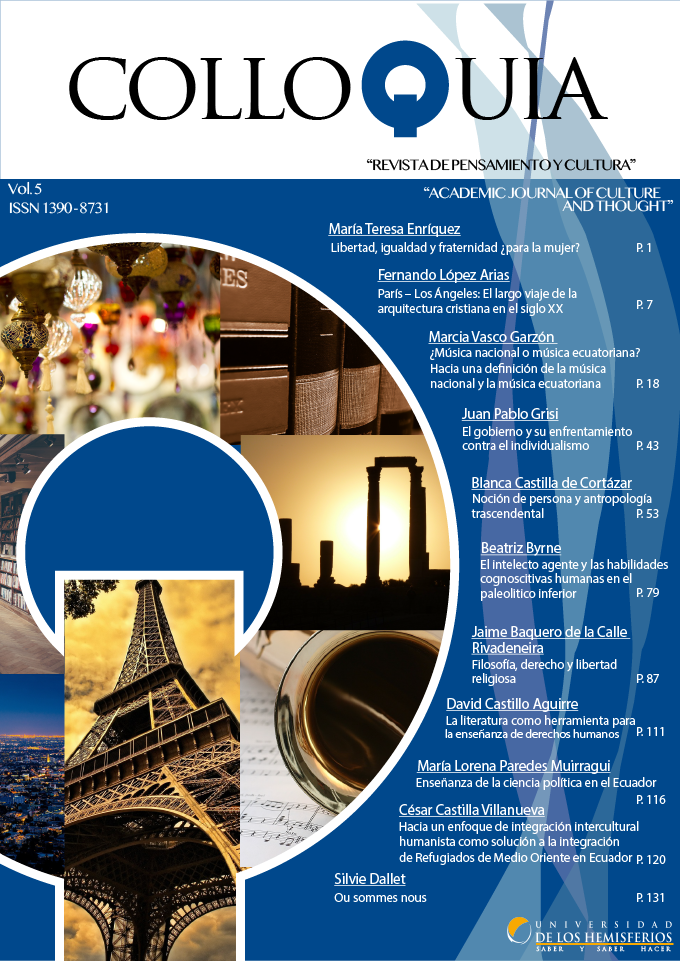 This work is licensed under a Creative Commons Attribution 4.0 International License.
Authors publishing in our Journal comply to the following terms:
1. Authors keep their work's copyrights, but they guarantee Colloquia to be the first publisher of their papers. They grant the Journal with a Creative Commons Attribution License, under which their work can be shared with the condition that it is appropriately cited.
2. Authors can establish further clauses for non-exclusive distribution, such as publication on a separate book or placing in an institutional data-base. Nevertheless, a note should be always added to explain that the paper was originally published in Colloquia.
This Journal utilizes the LOCKSS system to create a file distributed among participating libraries, allowing these libraries to create permanent archives of the Journal for purposes of preservation and restoration. More information...