El término griego ἀδελφός - adelphos entendido como referente mariológico desde el cristianismo primitivo hasta nuestros días
Jaime Baquero de la Calle Rivadeneira
Abstract
Early Christians used to call each other brothers, using the Greek term ἀδελφός (adelphos), which means: "from the same bosom". According to the theology developed by the Fathers of the Church, in direct succession with Saint John, apostle and evangelist, Christ was begotten from the Father; taking His flesh and human nature from the Virgin Mary, and the rest of his followers are regenerated in the flesh and spirit by Christ, through the spiritual motherhood of Mary. These facts are justified in the words of Christ on the cross, before dying: "behold your son / behold your mother"; and they are endorsed in the mystical interpretation of the woman of the Apocalypse, who suffers childbirth pain.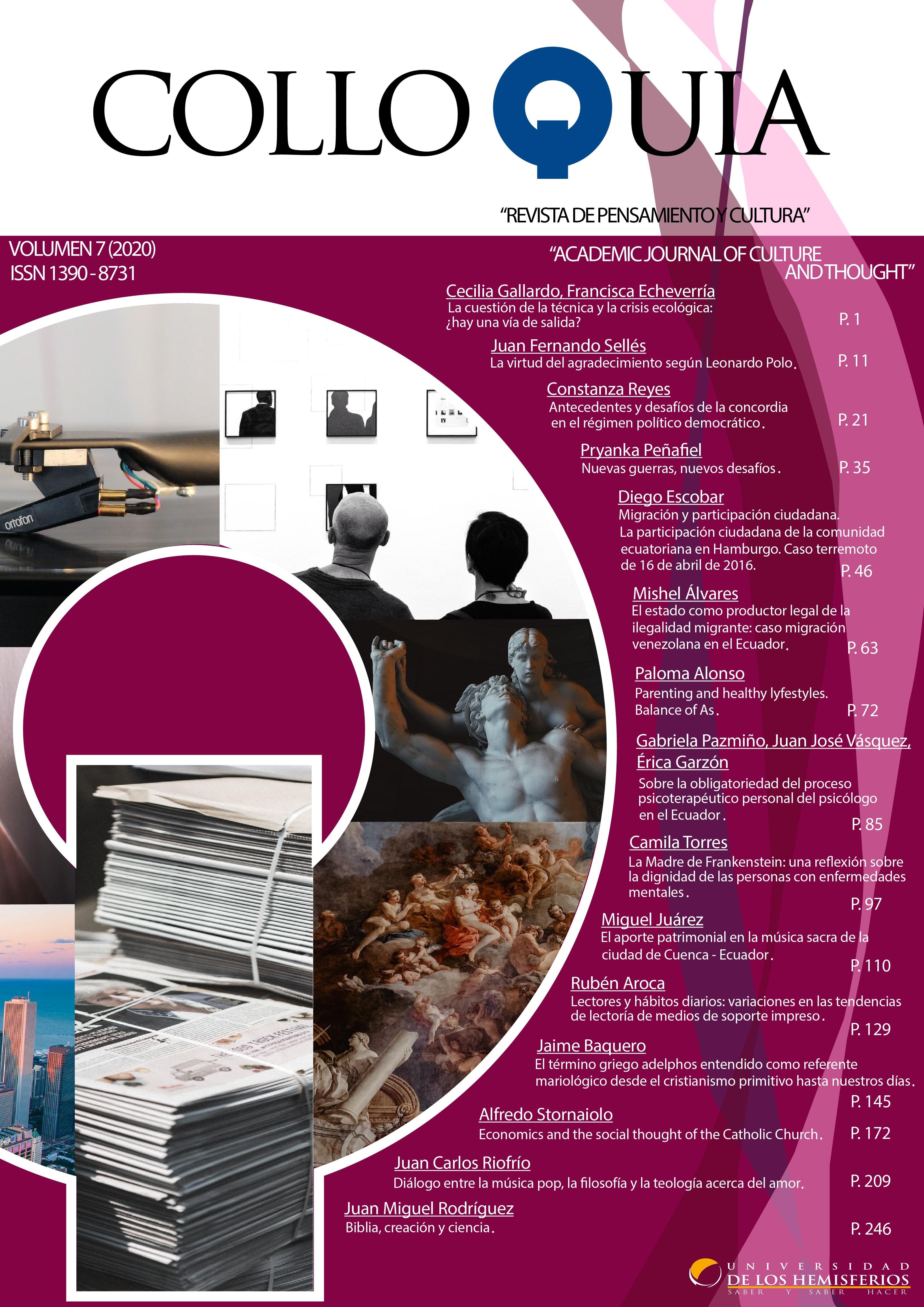 How to Cite
BAQUERO DE LA CALLE RIVADENEIRA, Jaime. El término griego ἀδελφός - adelphos entendido como referente mariológico desde el cristianismo primitivo hasta nuestros días.
Colloquia, Academic Journal of Culture and Thought
, [S.l.], v. 7, p. 145 -171, dec. 2020. ISSN 1390-8731. Available at: <
https://colloquia.uhemisferios.edu.ec/index.php/colloquia/article/view/103
>. Date accessed: 28 jan. 2021.
This work is licensed under a Creative Commons Attribution 4.0 International License.
Authors publishing in our Journal comply to the following terms:
1. Authors keep their work's copyrights, but they guarantee Colloquia to be the first publisher of their papers. They grant the Journal with a Creative Commons Attribution License, under which their work can be shared with the condition that it is appropriately cited.
2. Authors can establish further clauses for non-exclusive distribution, such as publication on a separate book or placing in an institutional data-base. Nevertheless, a note should be always added to explain that the paper was originally published in Colloquia.
This Journal utilizes the LOCKSS system to create a file distributed among participating libraries, allowing these libraries to create permanent archives of the Journal for purposes of preservation and restoration. More information...