Noción de persona y antropología transcendental
Si el alma separada es o no persona; si la persona es el todo o el esse del hombre: de Boecio a Polo
Blanca Castilla de Cortázar
Abstract
The notion of person, absent from Greek metaphysics, is a philosophical approach of Christianism. Thanks to the Cappadocians, the term hypostasis was stripped of its meaning of pure hypokeimon and of substance, in order to be closer to the meaning that the Romans had given to the term 'person', as an entity different from 'things'. Theology applied this notion to God, describing it as a subsistent relationship. Nevertheless, when applied to man, Boethius defines it as: individual substance of rational nature, stripping it from its peculiar characteristics: subsistence and relationality, loosing both analogy between the human and the divine person.
            Saint Thomas Aquinas, starting from Boethius, initially states that the separate soul is not a person, since it seems that such is the human "whole". In spite of this, he, himself, further reformulates the aforementioned notion, describing it as a "spiritual subsistent" (De Potentia, 9, a.4, c), anchoring it, once more, in the being. The fundamental structure of Thomistic metaphysics (between essentia and ese), as recently recovered by Leonardo Polo, applies such distinction to Anthropology, understanding a person as the human act of being free.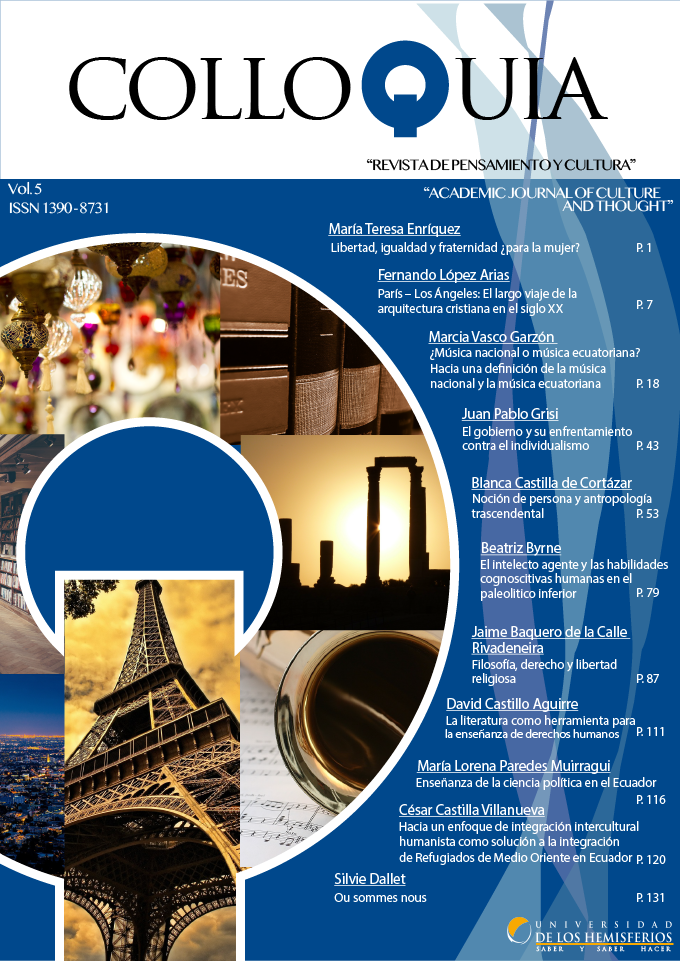 This work is licensed under a Creative Commons Attribution 4.0 International License.
Authors publishing in our Journal comply to the following terms:
1. Authors keep their work's copyrights, but they guarantee Colloquia to be the first publisher of their papers. They grant the Journal with a Creative Commons Attribution License, under which their work can be shared with the condition that it is appropriately cited.
2. Authors can establish further clauses for non-exclusive distribution, such as publication on a separate book or placing in an institutional data-base. Nevertheless, a note should be always added to explain that the paper was originally published in Colloquia.
This Journal utilizes the LOCKSS system to create a file distributed among participating libraries, allowing these libraries to create permanent archives of the Journal for purposes of preservation and restoration. More information...