El aporte patrimonial en la música sacra de la ciudad de Cuenca - Ecuador
Tradiciones europeas y mestizaje postcolonial
Abstract
The present article proposes to establish and describe two artistic patrimonial contributions to the sacred music of Ecuador; they belong to the cultural and religious past of the City of Cuenca (state of Azuay), a referential witness of the Evangelization process in America. Around the liturgy of the Catholic, Apostolic and Roman Church, different artistic expressions were born, and they have contributed to the Cultural Heritage of Humanity. A qualitative and analytical methodology has been used in this study, from documentary sources corresponding to scores and Photographs. The first is a musical form for organ, product of a miscegenation between profane tonal dance and free rhythm verses with pentaphonic ancestral tunes. The second belongs to an extensive tradition and adaptation in Latin America: the construction of pipe organs according to models from the Iberian Peninsula, that adjusting to the geographical particularities gave rise to different schools of organ-building throughout the continent.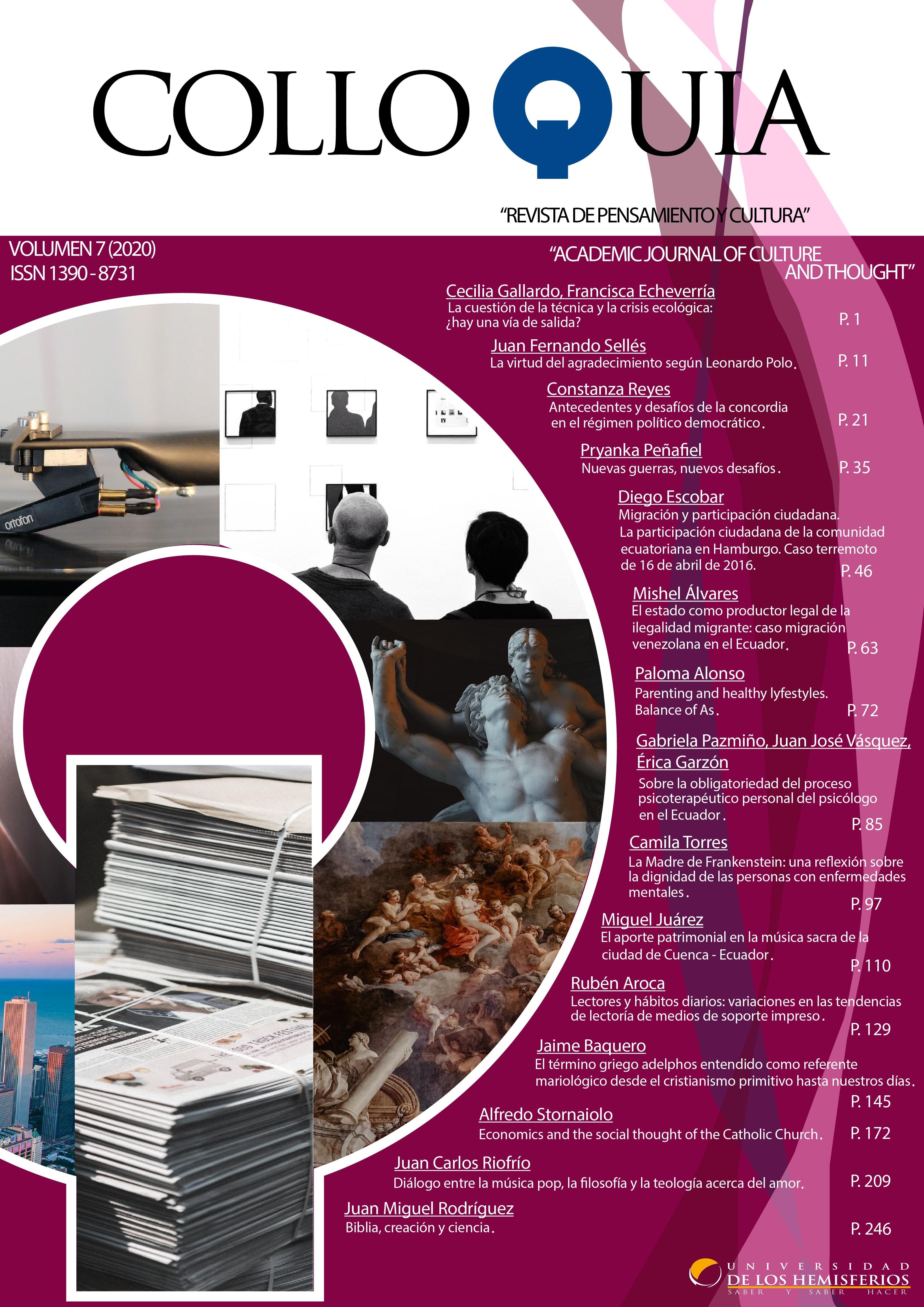 This work is licensed under a Creative Commons Attribution 4.0 International License.
Authors publishing in our Journal comply to the following terms:
1. Authors keep their work's copyrights, but they guarantee Colloquia to be the first publisher of their papers. They grant the Journal with a Creative Commons Attribution License, under which their work can be shared with the condition that it is appropriately cited.
2. Authors can establish further clauses for non-exclusive distribution, such as publication on a separate book or placing in an institutional data-base. Nevertheless, a note should be always added to explain that the paper was originally published in Colloquia.
This Journal utilizes the LOCKSS system to create a file distributed among participating libraries, allowing these libraries to create permanent archives of the Journal for purposes of preservation and restoration. More information...