Elementos de gobierno y su enfrentamiento contra el individualismo
Juan Pablo Grisi Fernández
Abstract
In this brief document, the meaning of government will be posed in a concrete manner, and three of the elements that constitute it will be explained, point by point: authority, power and exercise of decision.  Although it is not intended to present the subject and reflections thereof as irrefutable truths, it is sought that the reader can find a certain objectivity in the arguments that are used. The government function will be analyzed and segmented, and different ideas seeking for reflection about its importance and need within every group of individuals will be presented. This article focuses on the issue of government in a general manner, without entering into, or specifying on, a certain scope; or on civil society, or on family, or on any other type of group or social institution. It intends to reflect upon, and to deepen the term "government" and the elements comprised therein.
Likewise, the culture of individualism is posed as a clear reality today, which threatens governmental action and makes it difficult. Individuals, constantly and more often, intend to make decisions without the need to consult with a relevant authority, even in what regards social or community issues. Twentieth Century individuals seek to have authority towards their circumstances and intend to decide without giving up their free will or without even being advised in order to find another point of view. Modern individuals (if it is in their hands), tend –more and more- to do as they please, without measuring consequences that may go beyond their individuality or personal circumstances, present time or concupiscent appetites. Individualized culture, as experienced nowadays, clashes frontally with a culture of planning and with the recognition of a serious need for government.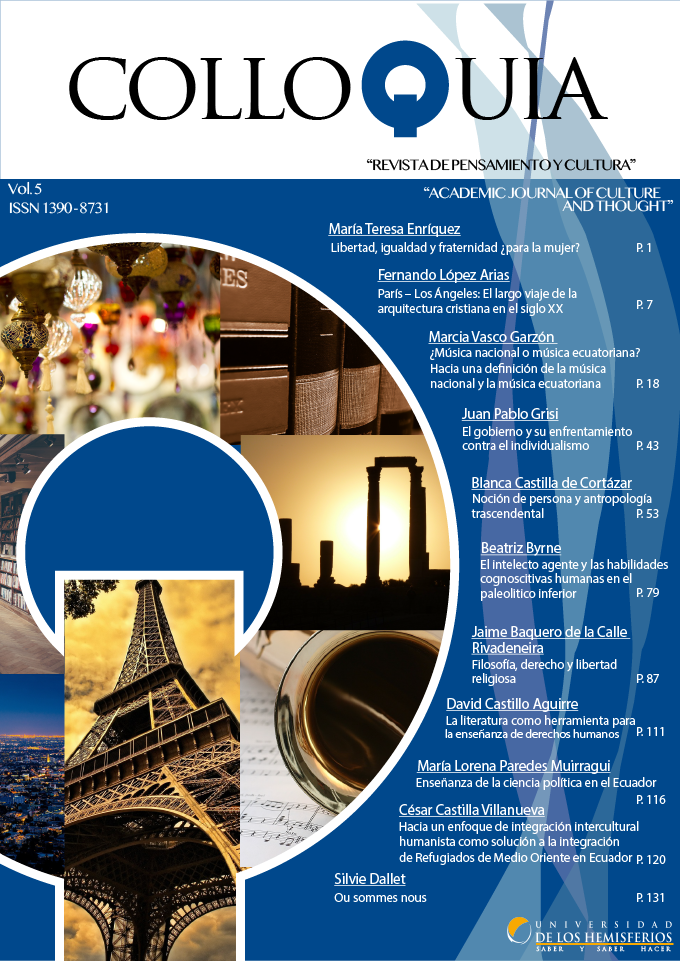 This work is licensed under a Creative Commons Attribution 4.0 International License.
Authors publishing in our Journal comply to the following terms:
1. Authors keep their work's copyrights, but they guarantee Colloquia to be the first publisher of their papers. They grant the Journal with a Creative Commons Attribution License, under which their work can be shared with the condition that it is appropriately cited.
2. Authors can establish further clauses for non-exclusive distribution, such as publication on a separate book or placing in an institutional data-base. Nevertheless, a note should be always added to explain that the paper was originally published in Colloquia.
This Journal utilizes the LOCKSS system to create a file distributed among participating libraries, allowing these libraries to create permanent archives of the Journal for purposes of preservation and restoration. More information...