Hacia un enfoque de integración intercultural humanista como solución a la integración de Refugiados de Medio Oriente en Ecuador
CESAR CASTILLA

Universidad de Los Hemisferios
Abstract
The situation of instability that the Middle East is living due to terrorism or conflicts generated by geopolitical interests has triggered a migratory crisis without precedents since 2014. Countries like Ecuador have been noted for their unrestricted respect for agreements subscribed regarding shelter for those who need international protection. As such, Ecuador has become an attractive country for people who want to start a new life given the flexibility of its immigration policy. Nevertheless, when it involves Middle East people, the process of integration is not that easy, especially if it has to do with a society where western values prevail. Therefore, it is necessary to create a proposal that may allow immigrants' integration within Ecuadorian society by means of an education prioritizing a humanistic approach. For such end, the Integration Program for Refugees and Migrants, created by Universidad de Los Hemisferios, is being analyzed.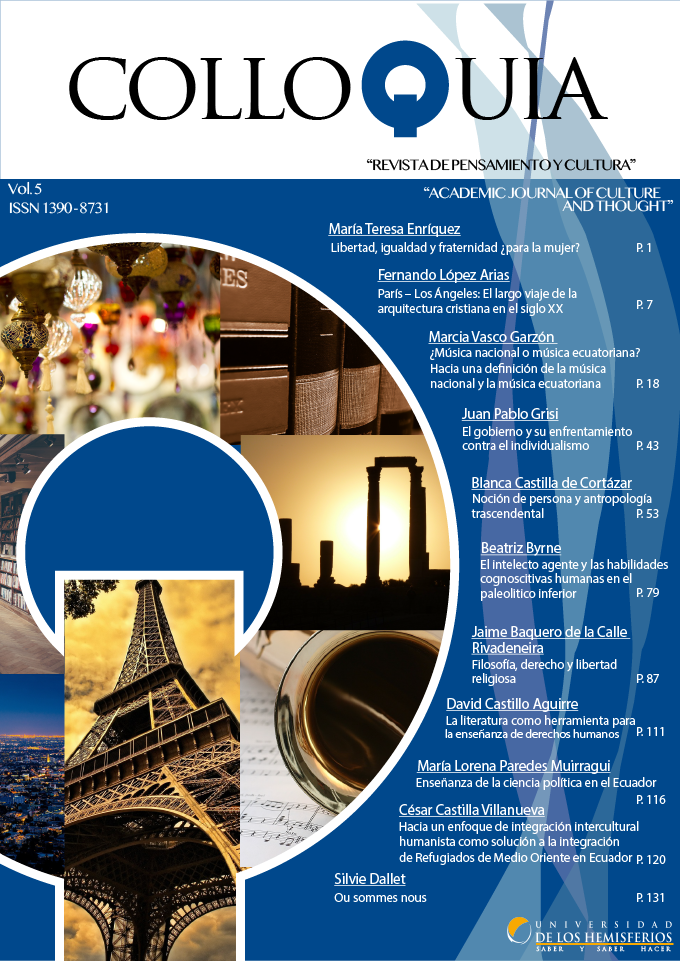 This work is licensed under a Creative Commons Attribution 4.0 International License.
Authors publishing in our Journal comply to the following terms:
1. Authors keep their work's copyrights, but they guarantee Colloquia to be the first publisher of their papers. They grant the Journal with a Creative Commons Attribution License, under which their work can be shared with the condition that it is appropriately cited.
2. Authors can establish further clauses for non-exclusive distribution, such as publication on a separate book or placing in an institutional data-base. Nevertheless, a note should be always added to explain that the paper was originally published in Colloquia.
This Journal utilizes the LOCKSS system to create a file distributed among participating libraries, allowing these libraries to create permanent archives of the Journal for purposes of preservation and restoration. More information...