Propuesta de un programa de musicoterapia para personas con fibromialgia para trabajar los valores vivenciales, creativos y de actitud que propone la logoterapia
Abstract
The purpose of this work is to design a music therapy program proposal for patients who have been diagnosed with fibromyalgia, targeted to maximize categorical values and temper their attitude from a logo therapeutic perspective.
The first part aims to get closer to the main characteristics of such a complex disease as fibromyalgia. It also intends to describe Musical Therapy and Logotherapy, as two disciplines that can be used together for the purpose of treating fibromyalgia.
The theoretical framework will be the base to establish a concrete program in which all three categorical values put forward by Logotherapy will be worked with a musical therapy approach.
The proposal of the program will be based on a humanistic existential vision that recognizes the person as a free and unconditioned being. Their own inalienable characteristic is that dimension in which they are always healthy, that is, the spiritual dimension. This dimension can be approached from Musical Therapy. For this, the proposal of the program will detail the fundamentals, main objectives, activities and evaluation methods. All these will serve as an orientation to live and work jointly these values in patients with fibromyalgia. In the same way, a therapeutic frame will be presented, and it will serve as a guide for other music therapists who wish to work and to contribute to this field.
Through this work that joins together Logotherapy and Musical Therapy, this work aim to improve the quality of life of those who coexist with chronic pain. It also pretends that the patients discover that in spite of the conditionings of their disease, they are not determined by it and can live a full life even in the middle of chronic pain.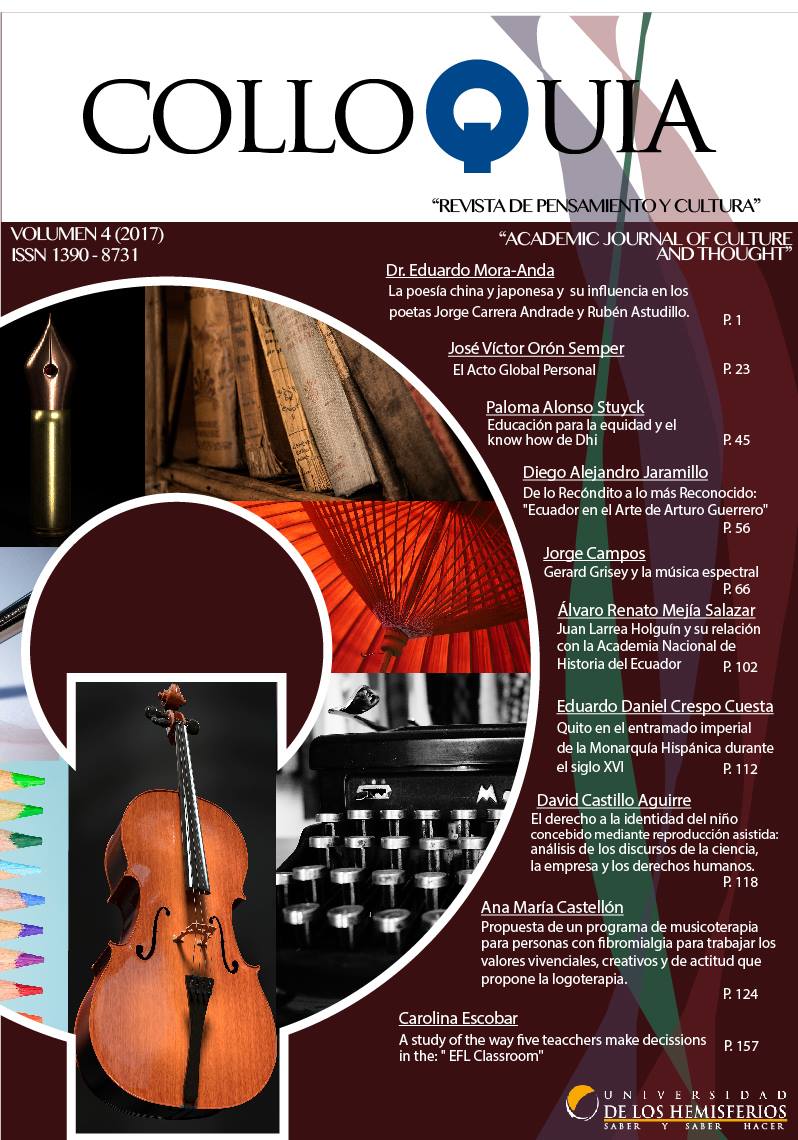 This work is licensed under a Creative Commons Attribution 4.0 International License.
Authors publishing in our Journal comply to the following terms:
1. Authors keep their work's copyrights, but they guarantee Colloquia to be the first publisher of their papers. They grant the Journal with a Creative Commons Attribution License, under which their work can be shared with the condition that it is appropriately cited.
2. Authors can establish further clauses for non-exclusive distribution, such as publication on a separate book or placing in an institutional data-base. Nevertheless, a note should be always added to explain that the paper was originally published in Colloquia.
This Journal utilizes the LOCKSS system to create a file distributed among participating libraries, allowing these libraries to create permanent archives of the Journal for purposes of preservation and restoration. More information...