La poesía china y japonesa y su influencia en los poetas Jorge Carrera Andrade y Rubén Astudillo
Abstract
This article approaches the influence exerted by Chinese and Japanese poetry over Ecuadorian poets Jorge Carrera Andrade and Ruben Astudillo. Despite the difficulties existing when translating poetry, a process which hinders access to poetry written in foreign languages and, despite not being able to offer an overview of contemporary Chinese poetry -due to the breadth and variety of authors that make part of its different stages and styles-, the author points out some features that characterize the millenary poetry of the two Asian countries, which features are also present in the poetry created by the aforementioned Ecuadorian authors: humanism, an intense love for nature, subtle eroticism, universal love, among others. Both poets had vital experiences in Japan and China, respectively. The article recognizes Japanese poetry as the most influential in Latin America, since haiku has captivated our baroque sensibility due to the way it contrasts against the brevity and conciseness of these Japanese poems, as can be seen in the beautiful micrograms composed by Jorge Carrera Andrade.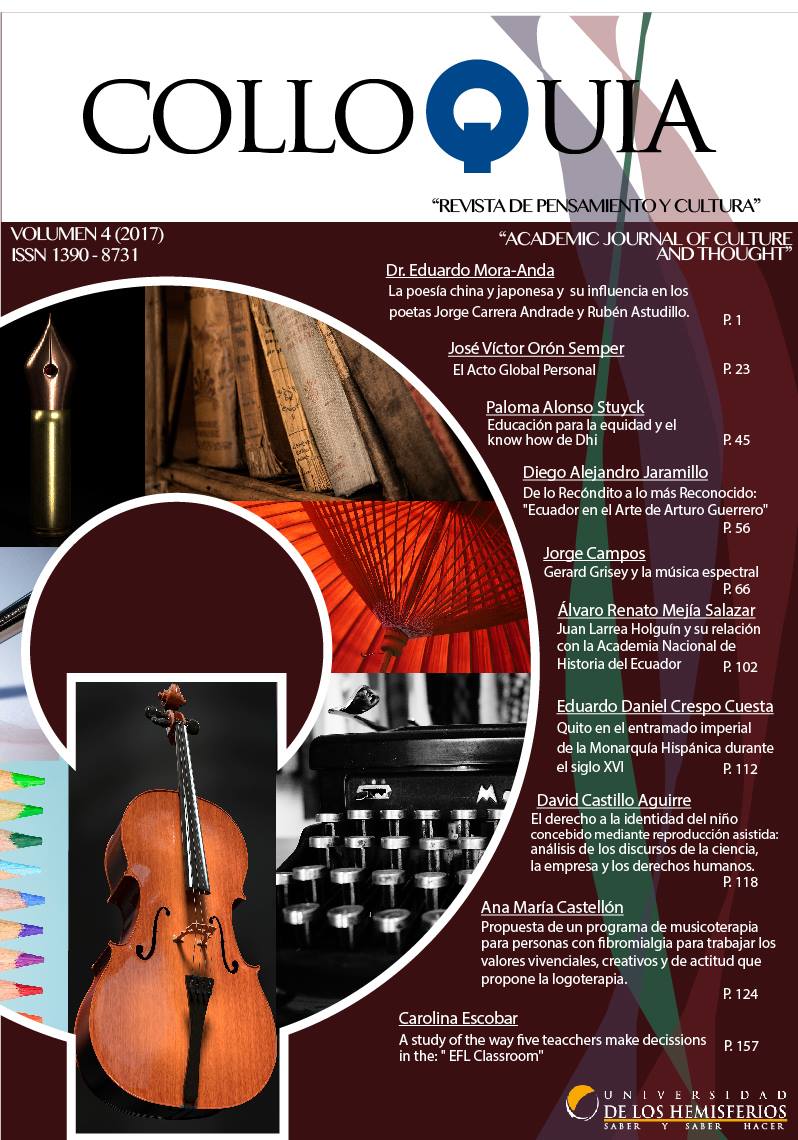 This work is licensed under a Creative Commons Attribution 4.0 International License.
Authors publishing in our Journal comply to the following terms:
1. Authors keep their work's copyrights, but they guarantee Colloquia to be the first publisher of their papers. They grant the Journal with a Creative Commons Attribution License, under which their work can be shared with the condition that it is appropriately cited.
2. Authors can establish further clauses for non-exclusive distribution, such as publication on a separate book or placing in an institutional data-base. Nevertheless, a note should be always added to explain that the paper was originally published in Colloquia.
This Journal utilizes the LOCKSS system to create a file distributed among participating libraries, allowing these libraries to create permanent archives of the Journal for purposes of preservation and restoration. More information...