Universidad e Interdisciplinariedad; Una propuesta desde el pensamiento L. Polo
Abstract
This paper presents a proposal on university interdisciplinarity from a methodical systemic approach. It is understood that this method can provide amplitude and depth to reunify the diverse contributions of each discipline. The approach of the Spanish philosopher Leonardo Polo, could offer some keys to shed light on the subject.
It will offer a description of the university and the roots of its crisis. The breakup of superior knowledge and the rupture of unity among them would be, according to Polo, the origin of this separation of sciences from each other and their consequences.
His proposal is presented in two ways. It offers a theory of knowledge - broad and reuniting - that links the different levels of human knowledge. But he points out that what is relevant is the personal side that connects with the interrelationships between university professors.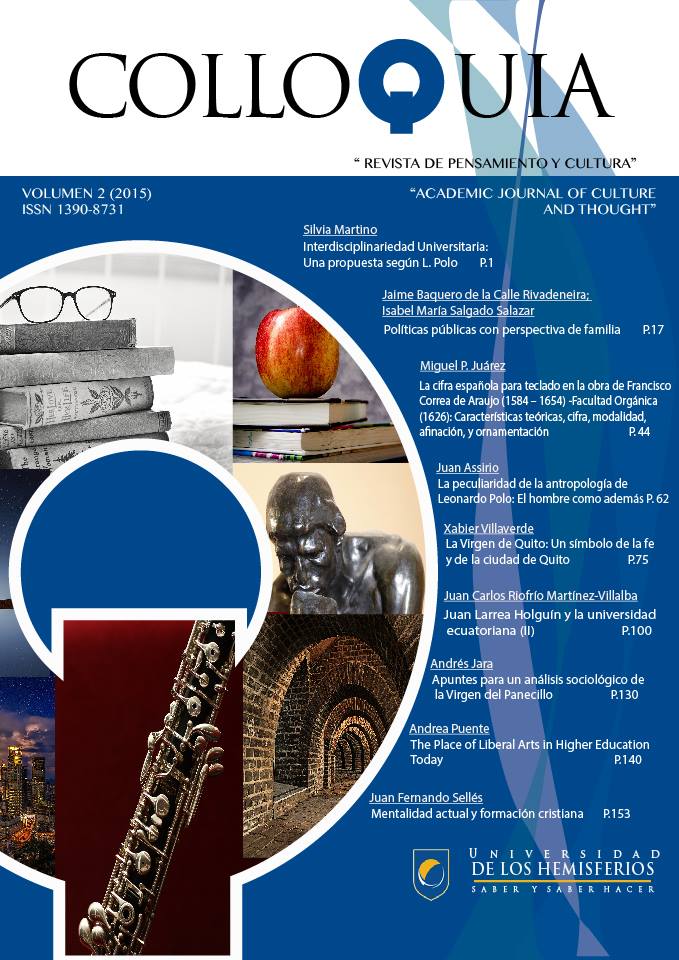 Authors publishing in our Journal comply to the following terms:
1. Authors keep their work's copyrights, but they guarantee Colloquia to be the first publisher of their papers. They grant the Journal with a Creative Commons Attribution License, under which their work can be shared with the condition that it is appropriately cited.
2. Authors can establish further clauses for non-exclusive distribution, such as publication on a separate book or placing in an institutional data-base. Nevertheless, a note should be always added to explain that the paper was originally published in Colloquia.
This Journal utilizes the LOCKSS system to create a file distributed among participating libraries, allowing these libraries to create permanent archives of the Journal for purposes of preservation and restoration. More information...