La simpatía como mecanismo de juicio moral en la ética de Adam Smith
Teresa Cordero

Universidad de los Andes
Abstract
Adam Smith develops his moral theory from an innate psychological quality that we know as sympathy. It basically consists of what we know today as "empathy", that is, the ability to accompany the other in any passion. Like any natural disposition, it is a morally neutral quality and therefore must be developed and cultivated in order to positively form a person's natural physiognomy. According to Smith's theory, due to the innate desire for sympathy, when we interact with others, we imaginatively tend to put ourselves in their place and evaluate their behavior as appropriate or inappropriate in certain circumstances. What do we evaluate? The agent's reaction in such circumstances. And since for Smith all action comes from feelings, what we ultimately evaluate are his feelings. How do we do it? Through our own feelings. If, by putting ourselves in the agent's place, we agree on the feelings that moved him to react and act in that way, then his action is appropriate and we sympathize with him; if we do not agree on the affections, we do not sympathize and, therefore, we fail. However, so far we are facing a process that is exclusively psychological. The evaluations we make of the feelings of others are not yet moral evaluations, because what is appropriate or inappropriate is restricted to particular opinions: it seems appropriate to me that a person, faced with such circumstances, react in such a way and I approve; but to another person it may seem inappropriate and, therefore, they do not approve of it. To arrive at a moral evaluation we need to distance ourselves from this partial perspective and look at the facts from a third position, which allows us to evaluate impartially; that is, by bracketing our particular biases. It is then when the impartial spectator emerges, as a result of sympathetic processes. With the aim of reflecting on the thesis of sympathy as a mechanism of moral judgment, this article seeks to clarify the concept of sympathy in Smith, to show its relationship with moral judgment and to expose how, in our opinion, this psychological quality constitutes the condition of possibility of the appearance of the impartial spectator.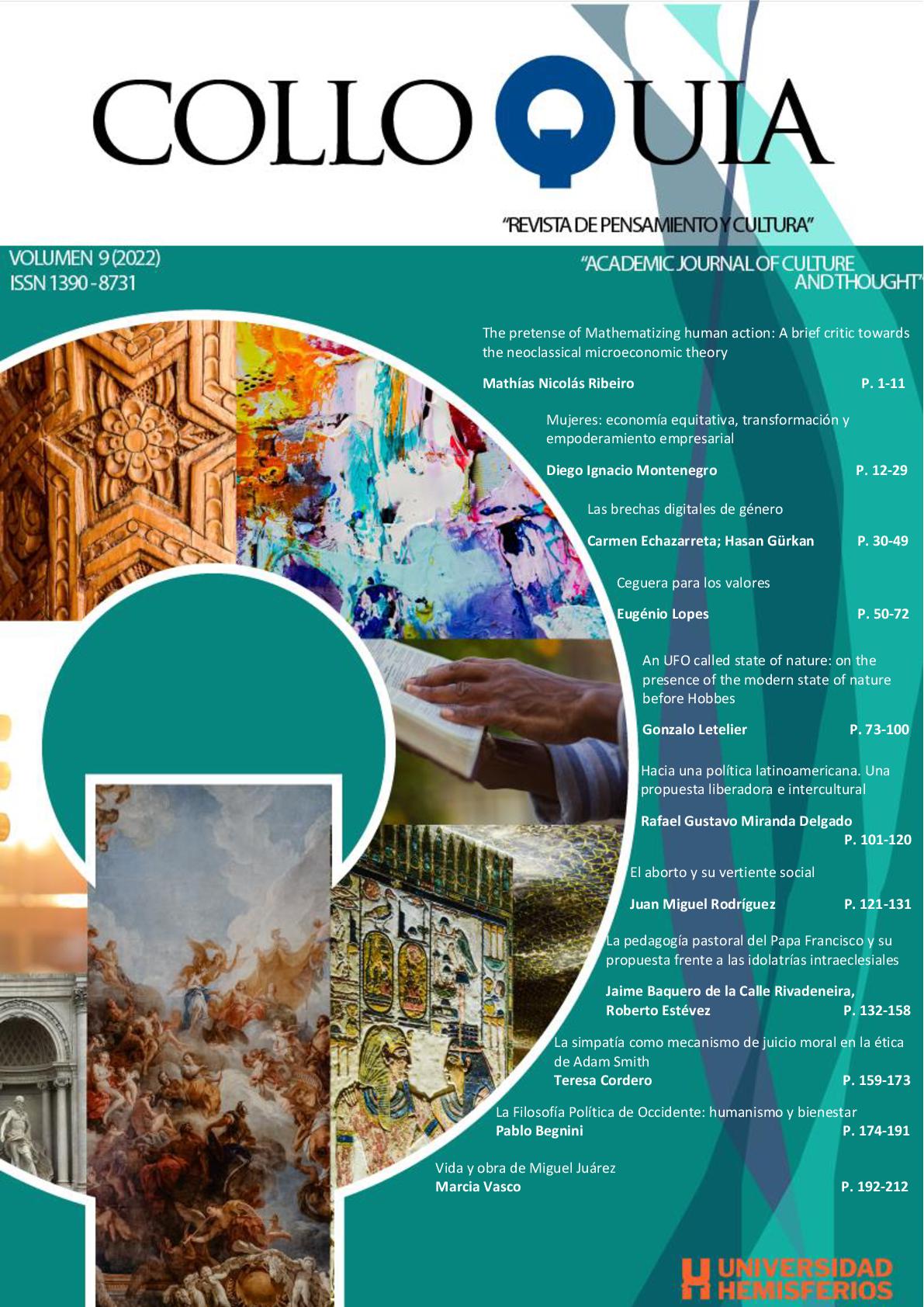 This work is licensed under a Creative Commons Attribution 4.0 International License.
Authors publishing in our Journal comply to the following terms:
1. Authors keep their work's copyrights, but they guarantee Colloquia to be the first publisher of their papers. They grant the Journal with a Creative Commons Attribution License, under which their work can be shared with the condition that it is appropriately cited.
2. Authors can establish further clauses for non-exclusive distribution, such as publication on a separate book or placing in an institutional data-base. Nevertheless, a note should be always added to explain that the paper was originally published in Colloquia.
This Journal utilizes the LOCKSS system to create a file distributed among participating libraries, allowing these libraries to create permanent archives of the Journal for purposes of preservation and restoration. More information...