Construcción teórica del campo figurativo para el análisis lírico
Jesús Miguel Delgado Del Aguila

Universidad Nacional Mayor de San Marcos
Abstract
For years, the study of rhetoric has included figures that allow the analysis of poetry, as well as diversified creation according to multiple styles. In this regard, in this article, the proposal based on Stefano Arduini, who establishes the notion of figurative field, as a computer of subjective guidelines, typical of reasoning, from which six subclassifications are inferred: metaphor, metonymy, synecdoche, ellipsis, antithesis and redundancy, in addition to the internal tropes that compose them. Faced with this, we will resort to the approaches elaborated by critics and the theorists of Literature for the hermeneutical confrontation that make up these concepts spread by poetry. The authors that will be used are Aristotle with Rhetoric, Marco Fabio Quintiliano with Oratory Institutions (1887), Pierre Fontanier with Les figures du discours (1977), George Lakoff and Mark Johnson with Metaphors of Everyday Life (1995), Jacques Lacan (1998), Stefano Arduini (2000), Oldřich Bĕlič (2000), Tomas Albaladejo (2008) and Camilo Ruben Fernandez Cozman (2010).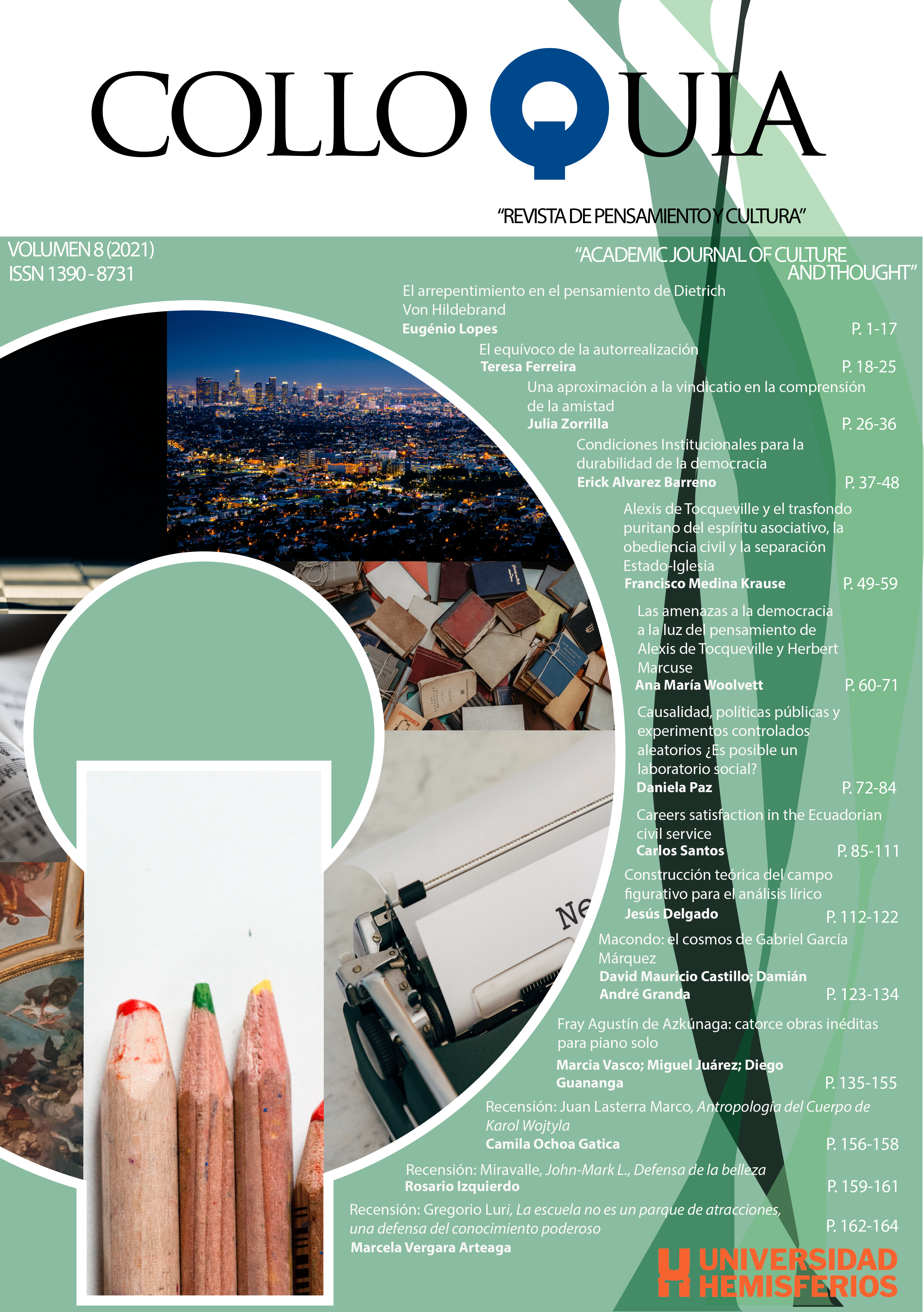 This work is licensed under a Creative Commons Attribution 4.0 International License.
Authors publishing in our Journal comply to the following terms:
1. Authors keep their work's copyrights, but they guarantee Colloquia to be the first publisher of their papers. They grant the Journal with a Creative Commons Attribution License, under which their work can be shared with the condition that it is appropriately cited.
2. Authors can establish further clauses for non-exclusive distribution, such as publication on a separate book or placing in an institutional data-base. Nevertheless, a note should be always added to explain that the paper was originally published in Colloquia.
This Journal utilizes the LOCKSS system to create a file distributed among participating libraries, allowing these libraries to create permanent archives of the Journal for purposes of preservation and restoration. More information...