"El Estado como productor legal de la ilegalidad migrante"
caso migración venezolana en el Ecuador
Mishel Carolina Alvarez

Flacso Ecuador
Abstract
La época actual se caracteriza por ser una época de seguridad y control global, en la cual los Estados se encuentran en constante tensión entre políticas de movilidad (valorización de la migración) y políticas de control que intentan contener el excedente de movilidad (Mezzadra, 2012). En este contexto de seguridad global, se inserta el Ecuador el cual, a través de sus marcos regulatorios, normativas legales, políticas migratorias producen de forma legal la irregularidad migrante particularmente del colectivo venezolano, construyendo a estos sujetos como irregulares, desechables y criminalizados.
Cabe mencionar que esta producción legal de la irregularidad migrante por parte del Estado ecuatoriano responde por un lado, al régimen migratorio y fronterizo global entendido como "la politización de la libertad de movimiento de los seres humanos sometiéndolos al poder estatal" (De Genova, 2017, p.158) basado en el control, la deportación, la criminalización de la migración y por el otro lado, a la externalización de la frontera particularmente de Estados Unidos, en la cual los migrantes provenientes de países "pobres" son construidos como amenazas para la cohesión, la seguridad y la identidad nacional por lo cual resulta necesario generar y consolidar mecanismos de control, contención, deportación, seguridad estandarizados con el fin de combatir las amenazas y garantizar la seguridad nacional.
Este artículo se propone complejizar los debates en torno a las políticas migratorias nacionales direccionadas al colectivo venezolano.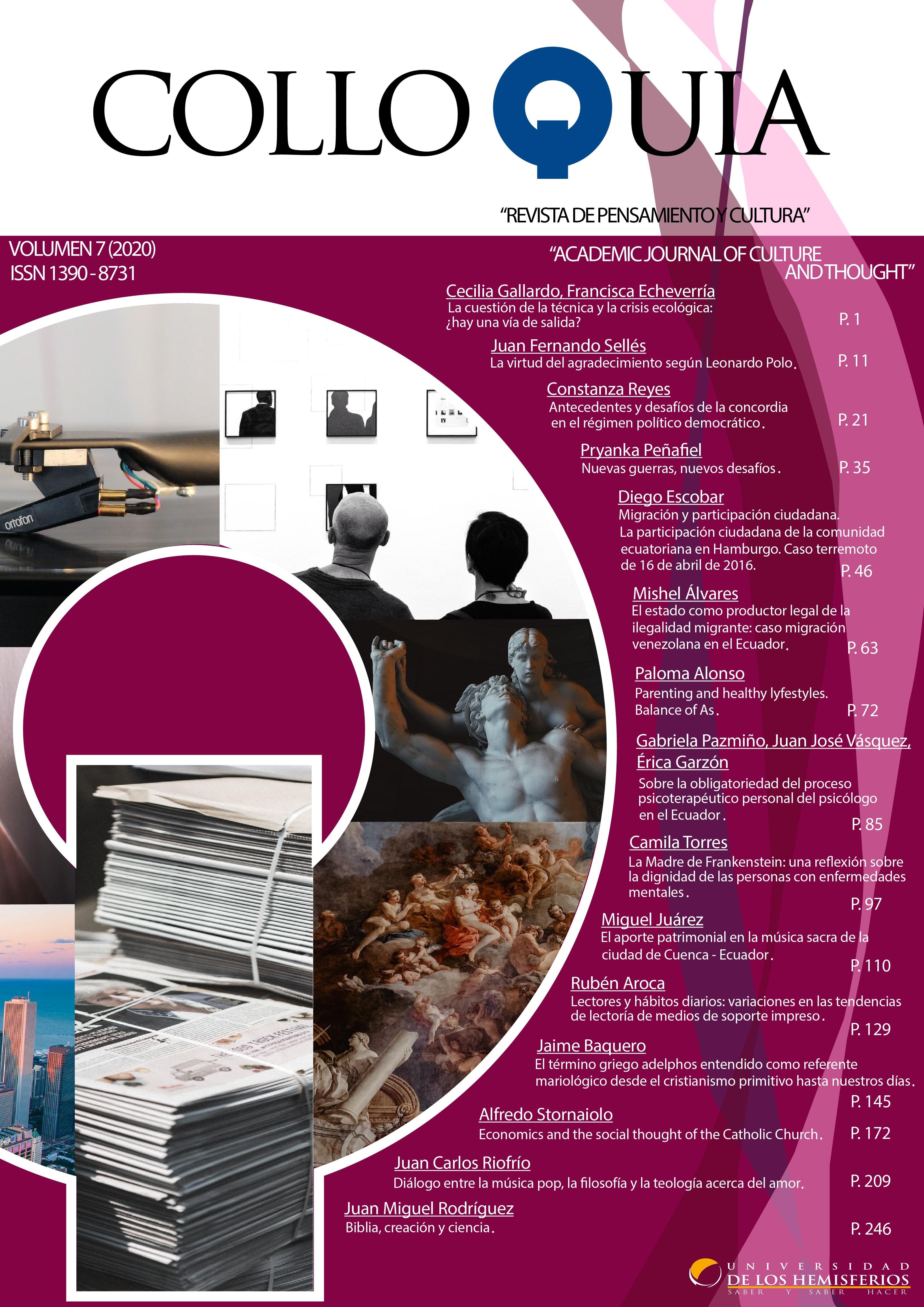 This work is licensed under a Creative Commons Attribution 4.0 International License.
Authors publishing in our Journal comply to the following terms:
1. Authors keep their work's copyrights, but they guarantee Colloquia to be the first publisher of their papers. They grant the Journal with a Creative Commons Attribution License, under which their work can be shared with the condition that it is appropriately cited.
2. Authors can establish further clauses for non-exclusive distribution, such as publication on a separate book or placing in an institutional data-base. Nevertheless, a note should be always added to explain that the paper was originally published in Colloquia.
This Journal utilizes the LOCKSS system to create a file distributed among participating libraries, allowing these libraries to create permanent archives of the Journal for purposes of preservation and restoration. More information...