Apuntes para un análisis sociológico de la Virgen del Panecillo
Abstract
The topographic importance of Panecillo is notorious within the City of Quito, since it sets limits between the Northern and the Southern part of town. During Pre Incaic and Incaic times, it was a sacred ceremonial place. The monument to the Virgin, built on its top in the 20th Century, during the seventies, shows the triumph of one culture over another, as well as the use of references to the sacred within the symbolic space of the city. The former Indigenous place of worship became a strategic site for urban logistics, the disposition of which shows the Virgin facing progress, the Northern part of town, and turning her back to the Southern part of town, the city of the poor. This has generated stereotypes and social valuation systems. Panecillo has therefore been an important and unavoidable reference for the topography of Quito and, as such, it has arisen sociological, religious and artistic interest.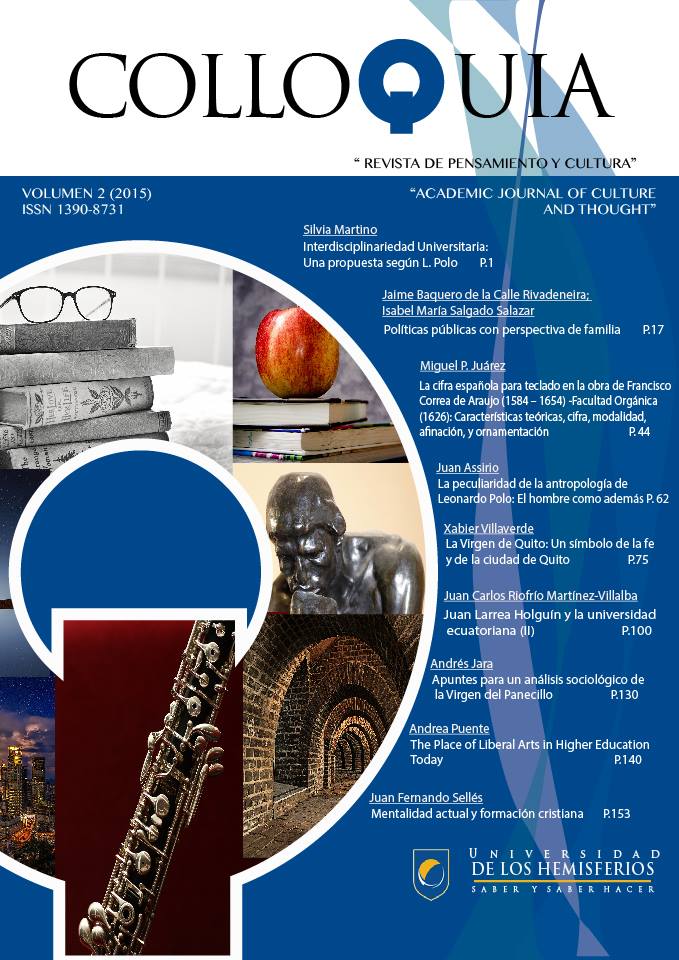 Authors publishing in our Journal comply to the following terms:
1. Authors keep their work's copyrights, but they guarantee Colloquia to be the first publisher of their papers. They grant the Journal with a Creative Commons Attribution License, under which their work can be shared with the condition that it is appropriately cited.
2. Authors can establish further clauses for non-exclusive distribution, such as publication on a separate book or placing in an institutional data-base. Nevertheless, a note should be always added to explain that the paper was originally published in Colloquia.
This Journal utilizes the LOCKSS system to create a file distributed among participating libraries, allowing these libraries to create permanent archives of the Journal for purposes of preservation and restoration. More information...