Freedom, equity and fraternity. For women?
María Teresa Enríquez Gómez
Abstract
Women's day, commemorative of a socialist convention (March 8, 1910), brings back the memory of the feminist ideal revolutionary root. This work examines the three ideals characteristic of the French Revolution: freedom, equality and fraternity, and proposes a re-reading of such ideals under the light of the historical results thereof during the last two centuries.
Historically, freedom and equality shaped the two main politic and economic blocks of the 20th Century: individualistic freedom and Capitalism, and equality as a superficial egalitarianism towards Socialism. ¿So, what happened to fraternity?
The good of women –and of society as a whole- needs the accomplishment of fraternity. But fraternity demands a change of paradigm: that freedom may be understood as commitment capability, and not just as decoupling; and that equality be added to the recognition of differences and, therefore, it may be open to complementarity. Freedom to commitment and complementarity between equals open the way for fraternity as mutual help.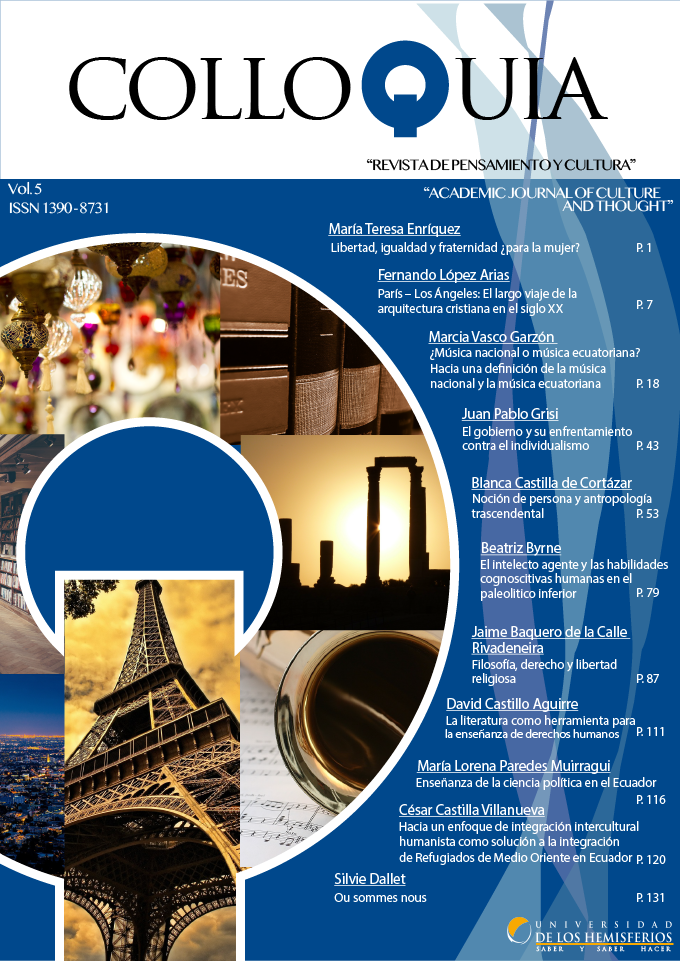 This work is licensed under a Creative Commons Attribution 4.0 International License.
Authors publishing in our Journal comply to the following terms:
1. Authors keep their work's copyrights, but they guarantee Colloquia to be the first publisher of their papers. They grant the Journal with a Creative Commons Attribution License, under which their work can be shared with the condition that it is appropriately cited.
2. Authors can establish further clauses for non-exclusive distribution, such as publication on a separate book or placing in an institutional data-base. Nevertheless, a note should be always added to explain that the paper was originally published in Colloquia.
This Journal utilizes the LOCKSS system to create a file distributed among participating libraries, allowing these libraries to create permanent archives of the Journal for purposes of preservation and restoration. More information...