Gerard Grisey y la música espectral
Abstract
This article focuses on the work of French composer Gerard Grisey, founding father of spectral music, a system of musical thought that revolutionized traditional conceptions of musical composition due to its innovative approach regarding sound phenomena. Dualities such as periodicity-unperiodicity, tension-relaxation, material-process, composition-perception, macrophonic-microphonic, are some of the notions coexisting in the spectral universe that comprises all categories of sound, in a movement of continuous expansion towards new perceptual thresholds.
 The first part of this article makes a journey that starts by intending to define spectral music and, further, by describing its main foundations before exploring some clues that still resonate in the history of music, in order to get closer to its origins, thus determining the consequences and perspectives of this new aesthetic. The article also studies the historical, social and artistic context in Europe and the World in the seventies and eighties, vital periods for spectral music and, particularly, for Gerard Grisey's creations.
 Based on one of the main characteristics of musical expresion in our time, plurality of thought, different celebrities in the field of musical creation and research state their points of view on spectral music: Hugues Dufourt, philosopher and composer, Tristan Murail, foundation father –together with Gérard Grisey- of this new musical aesthetic, Danielle Cohen-Levinas, philosopher and musicologist, Jean Baptiste Barrière, French composer and researcher, François-Bernard Mâche, composer, Marc André Dalbavie, Laurent Fichet, musicologist, among the most important.
 The second part of the article comprises some fundamental notions of acoustics, such as sound spectrum, harmonic and inharmonic sounds, partial sounds,  frequency and intensity of sound, the Fourier theorem and calculation of harmonics, the sonographer and the sonogram, spectral analysis of sounds and, finally, the contribution of informatics to the internal exploration of the vibratory phenomenon.
 The artistic career  of composer Gerard Grisey is studied in a detailed manner, as well as his formative and consolidation years in the field and the most prominent stylistic features of 'liminal' music, name given by the composer to his music.
The last part of this article focuses on the importance that certain visionary celebrities had on the emergence of spectral music, such as André Jolivet, Charles Ives,  Anton Webern, Edgar Varèse, Karlheinz Stockhausen, Giorgi Ligeti, Giacinto Scelsi and the French-Romanian composer Horatiu Radulescu, among the most outstanding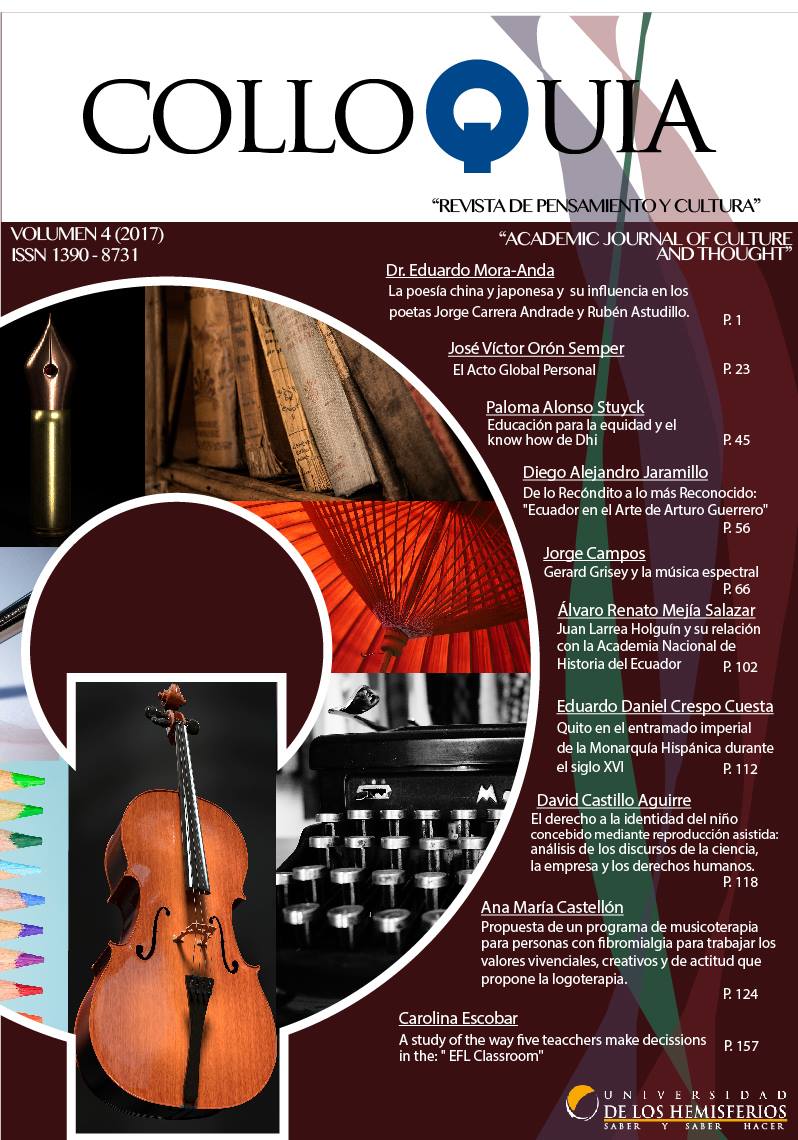 This work is licensed under a Creative Commons Attribution 4.0 International License.
Authors publishing in our Journal comply to the following terms:
1. Authors keep their work's copyrights, but they guarantee Colloquia to be the first publisher of their papers. They grant the Journal with a Creative Commons Attribution License, under which their work can be shared with the condition that it is appropriately cited.
2. Authors can establish further clauses for non-exclusive distribution, such as publication on a separate book or placing in an institutional data-base. Nevertheless, a note should be always added to explain that the paper was originally published in Colloquia.
This Journal utilizes the LOCKSS system to create a file distributed among participating libraries, allowing these libraries to create permanent archives of the Journal for purposes of preservation and restoration. More information...