Juan Larrea Holguín y la universidad ecuatoriana (II)
Juan Carlos Riofrío Martínez Villalba

Universidad de Los Hemisferios
Abstract
Mons. Juan Larrea Holguín's vision of the university will be analyzed here. This vision is specially gathered in four of the books he wrote and some anecdotes of his life which are the corpus of this study. The analysis' structure is: (i) it starts with the delimitation of the objective and subjective ultimate ends of academic work, which will determine the ways to achieve these ends; (ii) considering universal truth as the mentioned ultimate end, first we study the "love for truth" and all the virtues it implies; (iii) afterwards we describe the visions of liberty, responsibility, pluralism and sense of the university labor according to Larrea's mind; (iv) from here we analyze other virtues, such as order, discipline, exigency, magnanimity, fortitude, and courage for the propagation and defense of truth. The article ends with some conclusions.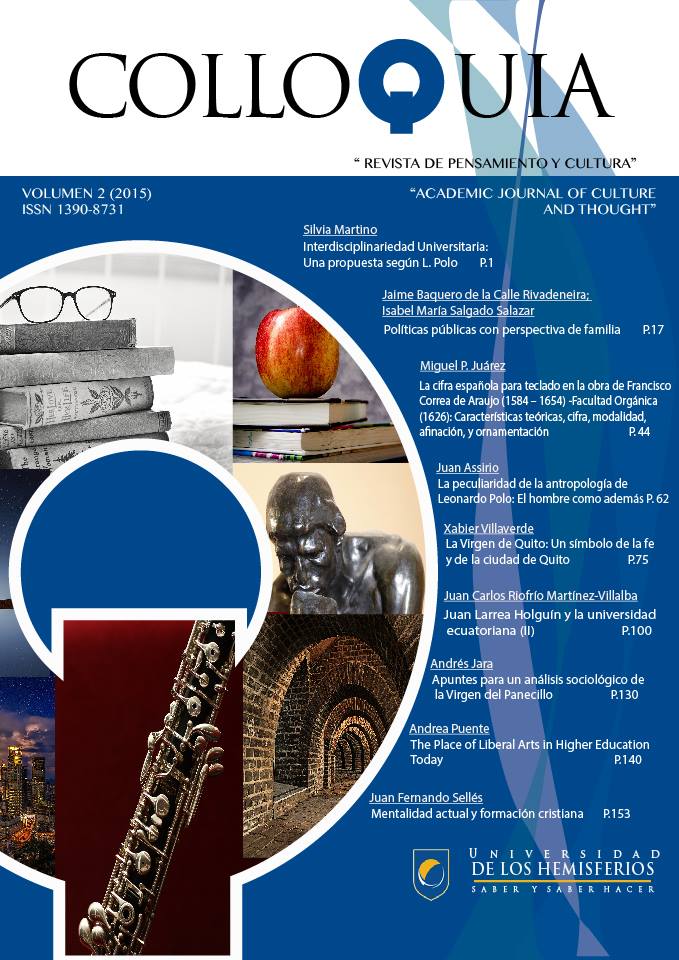 Authors publishing in our Journal comply to the following terms:
1. Authors keep their work's copyrights, but they guarantee Colloquia to be the first publisher of their papers. They grant the Journal with a Creative Commons Attribution License, under which their work can be shared with the condition that it is appropriately cited.
2. Authors can establish further clauses for non-exclusive distribution, such as publication on a separate book or placing in an institutional data-base. Nevertheless, a note should be always added to explain that the paper was originally published in Colloquia.
This Journal utilizes the LOCKSS system to create a file distributed among participating libraries, allowing these libraries to create permanent archives of the Journal for purposes of preservation and restoration. More information...