El poder de servir. Condiciones y virtudes que requiere el servicio
Abstract
There is no doubt that service is a central issue in today's society. The fruits of service are perceived on a daily basis, in its transforming efficacy. The goal of this article is to discern which are the conditions that stimulate the spirit of service, as well as the virtues that promote these conditions. In this way we can foster the spirit of service that is inherent to human action. Initially we focus on the person who carries out the service through an action, displaying in the well done action the transforming efficacy of those who are around her and her surroundings. Later on we address one of the major difficulties faced by service: lethargy. This element helps us to realize that today we see in the people an inability to know what is real, while service involves taking responsibility for the reality and knowing how to materialize the ideas and operationalize the projects. Afterwards we address a proposal on the conditions required by service and the virtues that are necessary for its proper exercise. This proposal does not perceive these conditions as a closed model. That would be a vision opposed to what the human being is, as the subject who performs a job in which he seeks perfection through the practice of virtue. One of the consequences that may result from our proposal is that the service is not a condition of the work, but a condition of the person who works. Finally we will see how the key of service is placed in personal love. Personal love has three dimensions hierarchically different in human beings. From highest to lowest, they are: accepting, giving and gift. The three dimensions of personal love put us on the track to understand that human love is an interested love. It is a love whose interest is to be interested in, and, therefore, to establish a bond of union and community, where giving and accepting are a gift. It is self-opening to someone.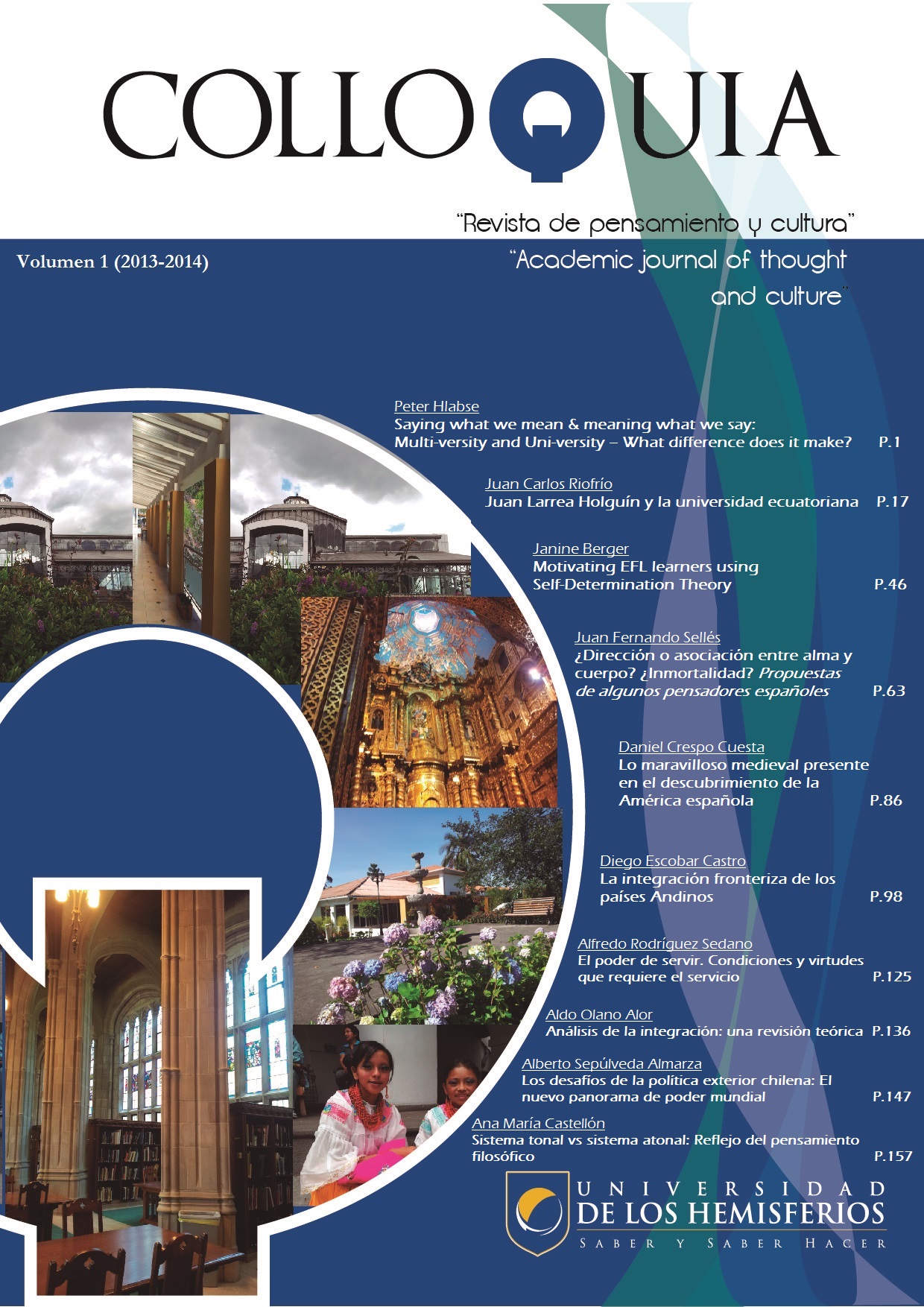 Authors publishing in our Journal comply to the following terms:
1. Authors keep their work's copyrights, but they guarantee Colloquia to be the first publisher of their papers. They grant the Journal with a Creative Commons Attribution License, under which their work can be shared with the condition that it is appropriately cited.
2. Authors can establish further clauses for non-exclusive distribution, such as publication on a separate book or placing in an institutional data-base. Nevertheless, a note should be always added to explain that the paper was originally published in Colloquia.
This Journal utilizes the LOCKSS system to create a file distributed among participating libraries, allowing these libraries to create permanent archives of the Journal for purposes of preservation and restoration. More information...