Alexis de Tocqueville y el trasfondo puritano del espíritu asociativo, la obediencia civil y la separación Estado-Iglesia
Francisco Javier Medina

Universidad de los Andes
Abstract
This essay is intended to address certain customs, habits, and institutions of 19th-century American society that, for Tocqueville, were important pillars of America's successful democratic experience, in line with its Puritan roots stemming from the very founding of New England. In this regard, our position is that it is impossible to make an adequate reading of American democracy that dispenses with the theological dogmas and doctrines embraced by its citizens. To support our point of view, we intend to draw some theoretical parallels between certain biblical doctrines typical of Puritan Christianity and certain ways of understanding the political organization present in North American culture. For this purpose, first of all we will talk about how the Puritan social pact, which understands that every community is made up of a set of people inevitably united with each other by birth, gives rise - to some extent - to the centrality of the American associative spirit. Then, we will deal with the political pact and how the Puritans conceived this relationship as a contract composed of obligations and rights with respect to political power and citizens. Finally we will talk about the necessary separation of the two most important sources of authority of the Puritan and even Tocquevillian times: the Church and the State.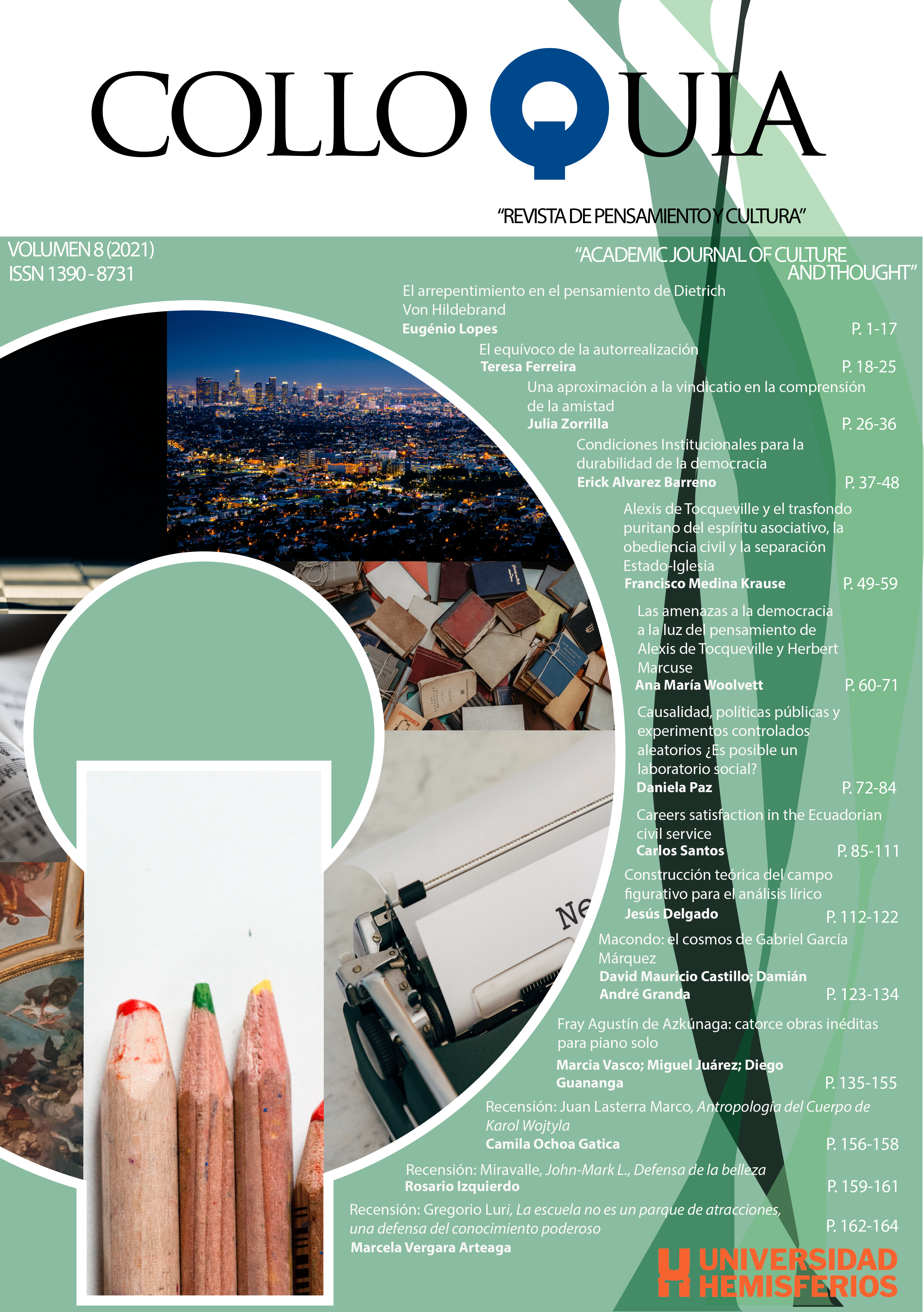 This work is licensed under a Creative Commons Attribution 4.0 International License.
Authors publishing in our Journal comply to the following terms:
1. Authors keep their work's copyrights, but they guarantee Colloquia to be the first publisher of their papers. They grant the Journal with a Creative Commons Attribution License, under which their work can be shared with the condition that it is appropriately cited.
2. Authors can establish further clauses for non-exclusive distribution, such as publication on a separate book or placing in an institutional data-base. Nevertheless, a note should be always added to explain that the paper was originally published in Colloquia.
This Journal utilizes the LOCKSS system to create a file distributed among participating libraries, allowing these libraries to create permanent archives of the Journal for purposes of preservation and restoration. More information...